Long, long ago I posted that I was intending to build a binding jig along the lines of Stew Mac's. Loved the idea, was repulsed by the price. I sat in my corner and thought and looked and pondered some more. Spent time on ebay shopping for things and bits. This is the fruit of my labor.
I used the Ridgid because the Colt is being used for my rosette jig and I'm basically lazy. I didn't want to deal with moving from one to the other so I bought two trimmers. Both are soft start and variable speeds. Don't know which I like better, but I had the Colt first and a need for a rosette jig first. That's were it will stay unless the Ridgid is worthless.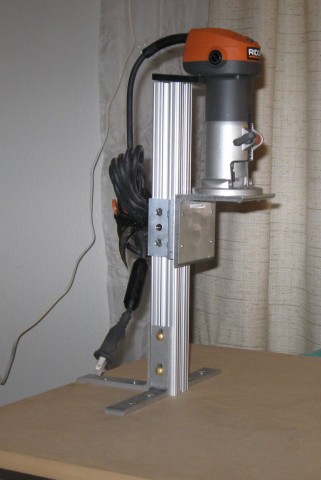 The plate with a bolt through it is the stop. It drops into a hole in the center of the extruded channel. I left it removable so that I wouldn't have to hassle with it when I needed to dismantle it to put it away. The bolt is long enough that it isn't going to pop off in use.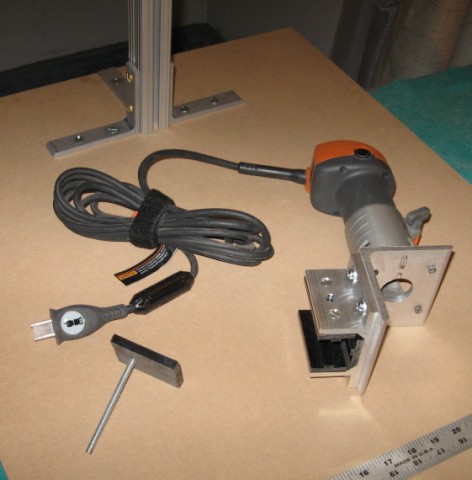 The entire setup consists of a piece of 1.5" extruded channel, a linear bearing and a piece of the largest aluminum angle I could get reasonably and three pieces of angle to bolt it to the base. The three pieces came from the same seller as the extruded channel and were predrilled as well as the linear bearing. I had cut and tap the plastic bearing pieces, but that was all. $55 for a completed bearing. $16 for the bits to put together. I used cross dowel bolts for the three base pieces to screw into because they fit in the channel and I had them on hand. The only tapping I had to do was the three plastic bearings and the four holes in the angle that the bearing bolts to. Not much too it really.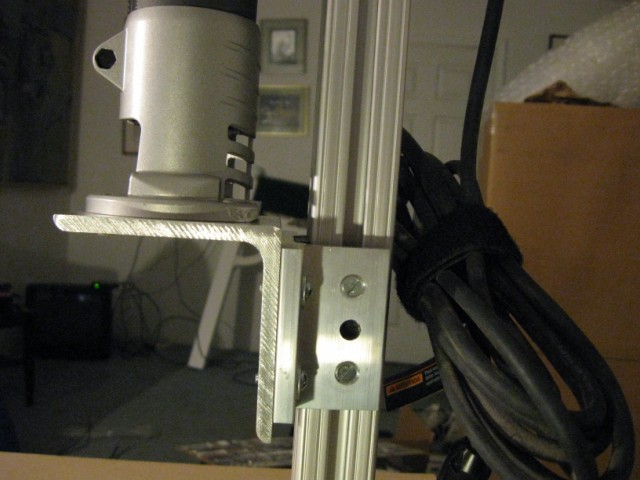 I've ordered a tapered doughnut from John Hall because I'm jammed up at the moment and don't want to fuss with getting the correct angle on it. That should be here by Wednesday. And that will finish the jig itself off, leaving the cradle to do, which I've started, but that's going to be another few weekends down the road before I can finish it.
We are leaving at the end of the month to go to Denver for a week and pick up our youngest Ryan and bring him home. Lots to get done before then so... no more shop time until May. If I stay on this schedule I should have the guitar finished by the end of summer. Fingers crossed and the creek don't rise too much more.